SAVE THE SEASON - 13-15 October 2017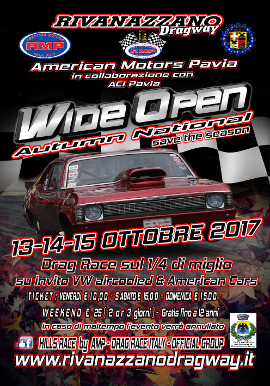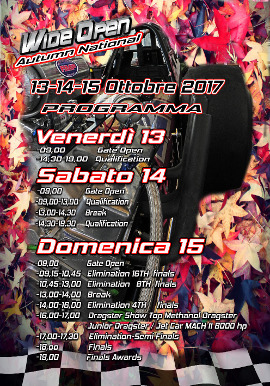 "SAVE THE SEASON" is the reason we committed to organize a third race this year, after the rainy Wide Open Spring in May and the cancelled Hills Race #14.
Together, American Motors Pavia and ACI Pavia decided not to surrender to the adverse weather conditions which showed up in the two previous events, and are eagerly awaiting all the Drag Racing enthusiasts at the Rivanazzano Terme airport.
Just for this one event, the race is invite only and reserved to American cars and aircooled Volkswagens.
Many of the pilots who submitted an entry for Hills Race #14 are already reconfirming their presence. The Drag Racing show will of course be of the highest level: there will be parking areas dedicated to USA cars, aircooled Volkswagens, and Harley-Davidsons. Our friend Sébastien Lajoux with his Toxic Drag Racing Team will attend the event with the Top Methanol Dragster and the MACH II, the two-seater Jet, to delight everyone with some scheduled shows along with Junior Dragster's young pilots.
Wide Open Autumn National "Save the Season" is not a rescheduled Hills Race, but it'll be an event in American Motors Pavia style nonetheless.