Home
Details

Category:

Hills Race #14
Details

Category:

Hills Race #14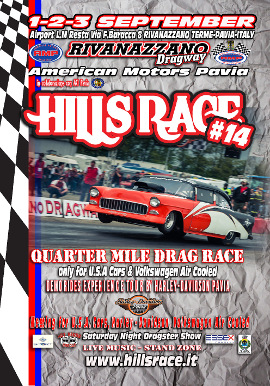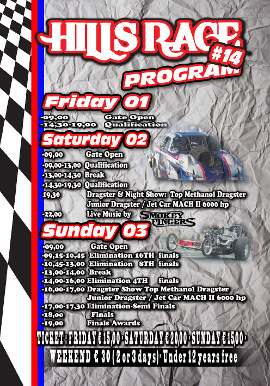 HILLS RACE #14 opens September 2017. From 1st to 3rd September at Rivanazzano Dragway in Rivanazzano Terme – Pavia – the well-established event of American Motors Pavia will gather a lot of engine enthusiasts who will find themselves on a weekend featured by the most famous drag race in Italy and now known even beyond the border.
Hundreds of American cars and Beetles, to which the race is reserved, will compete on the quarter mile at the mark of the Christmas Tree.
As always, our friends of Hot Heads Garage will be present to manage the aircooled Volkswagen area. Also the Pavia division of Harley-Davidson will be officially present, for the first time in this event, with the Demo Rides Experience Tour, allowing the public to test the motorcycles and also presenting all the official merchandising.
Saturday night will have the usual Saturday Night Dragster Show followed by the Smokey Fingers Southern Rock music concert.
You cannot miss the booths and memorabilia areas dedicated to the American world, and the Kustom area dedicated to brush and blaster artists.
Harley-Davidson zone, aircooled Volkswagen zone, American cars zone. Free camping area inside. All Paddocks freely accessible, dizzying burnout, thrilling starts and the historic competition between 8 American cylinders and 4 German cylinders will make you enjoy a very adrenalinic weekend!
You can find all the documentation and entry forms on this website and also on the official Hill Race website: www.hillsrace.it
See you there.