Note for pilots: we encourage you to read the updated Race Regulation.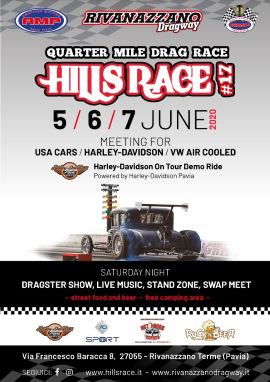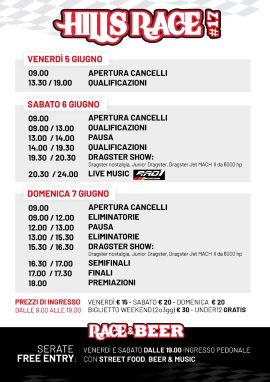 Rivanazzano Dragway, capital of the Italian drag racing sport, will reserve for 2020 important news for all enthusiasts.
Starting with the date. The Hills Race event, top happening in calendar, has been anticipated to June and will mark the beginning of the racing season. Hills Race 2020 has been scheduled for the weekend 5th-6th-7th of June. It's a significant change consider that this event has taken place for many years in September. To be marked on the calendar!
The change of date does not betray the successful Hills Race formula, that this year reaches its 17th edition. The queen of the track is the pure American-style drag race that takes place on the traditional ¼ of a mile distance. Dozens and dozens of drivers from all over Italy and Europe are expected, competing in the A1, A2, A3, Pro ET and Super Pro ET categories.
Friday and Saturday are special days dedicated to race qualifying. On Sunday the agenda reserves the most exciting moments, as the knockout stages, semi-finals and finals.
It is possible and highly recommended to follow live all the technical preparations, take photos and videos to the drivers and mechanics, thanks to the "open" paddocks. And do not forget the free access to the big stands, a great view to the whole long circuit.
Hills Race is not only race. The event offers to its visitors many other activities and a good amount of vendors and markets as well. Or the open-air expo of American and Volkswagen air-cooled cars, displayed along the event area. It's confirmed in this 2020 edition, the official presence of the legendary brand Harley-Davidson thanks to Harley-Davidson Pavia. The American dealer will display the new motorcycle line-up and Motorclothes collection, and offer bike tests.
Good street food and drinks service is granted for all the three days of event thanks to the professional team Rock 'n Beer San Genesio.
Visitors can't miss two appointments in the event agenda: the Dragster Show scheduled for Saturday at 19.30 and Sunday at 15.30. A huge amount of adrenaline thanks to the performance of the Junior dragsters, the Nostalgia cars and the 6.000 HP Jet Mach II dragster!!!!
The show will continue during the evening too. Hills Race opens pedestrian public access FREE OF CHARGE on Friday and Saturday evening starting from 19.00. Visitors can spend the whole evening listening live music and having dinner. It's confirmed the performance of the well-known band Rad1 for Saturday evening!
Visitors Ticket
Hills Race ticket office on site:
Friday € 15,00
Saturday € 20,00
Sunday € 20,00
WEEKEND € 30,00
Free for children up to 12 years old.
From 7.00 p.m. on Friday and Saturday pedestrian FREE ENTRY! Parking spaces adjacent to the event area. Refreshment points and free camping inside. More information on www.hillsrace.it